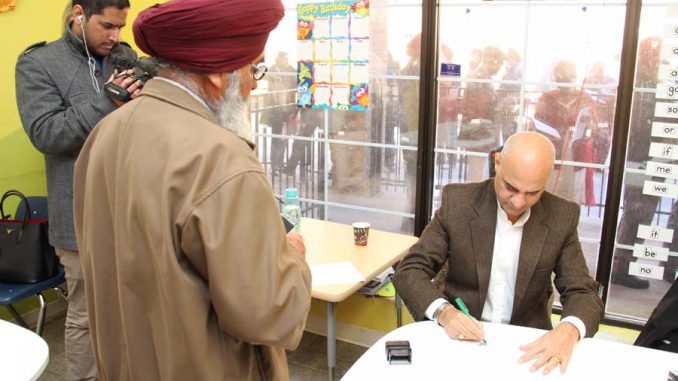 The Consulate General of India, Toronto organized first two Life Certificate camps for Indian pensioners at Oakville and Brampton on November 5 and 6, 2016 respectively. About 350 Life Certificates were issued at Oakville and at Brampton an unprecedented number of 1070 Life Certificates were issued.
The Consulate would like to thank the applicants and the organizers both for their whole-hearted support in making these camps a grand success. The Consulate will be further organizing four more camps as detailed below:
1.

Saturday

12 November 2016

(from 1000-1400 hrs)

Gurdwara Sahib, 2070 Snyder's

Road East, Petersburg Ontario N0B 2H0

Golden

Triangle

Sikh Association

Mr. Kuldeep Singh

Email: kuldip.bachher@wcdsb.ca

Cell No: 519-500-6265

2.

Saturday

12 November 2016

(from 1000-1600 hrs)

Cherry Tree Public School,

155 Cherrytree Dr

Brampton ON L6Y 3M9

Office of Ms.

Sonia Sidhu, MP

Ms. Sharandeep Natt

Email:Sonia.sidhu.a2@parl.gc.ca

Cell No:647-533-6990

3.

Saturday

19 November 2016

(from 0900-1600 hrs)

Lincoln M.Alexander Secondary

School, 3545 Morning star Dr,

Mississauga ON L4T1Y3

Indian

Ex-Servicemen

association of

Ontario,Canada

(Regd)

Brig Nawab Heer

(Retd)

Email: nawabheer@gmail.com

Cell No: 647-609-2633

4.

Sunday

20 November 2016

(from 0900-1600 hrs)

Gurudwara Dashmesh Darbar

566, Archibald St, Winnipeg,

Manitoba R2J 0X4

Ram Garhia Sikh

Association

Mr. Kashmir Pannu

Email:

kashpannu@yahoo.ca

Cell No: 204-999-7093
The Consulate would request the Indo-Canadians pensioners to take advantage of these camps.