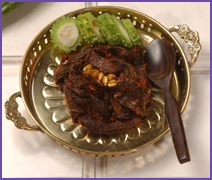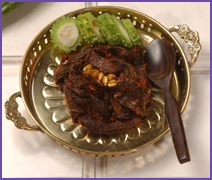 Ingredients :
4 bittergourd
8 green chillies
1 red chilli
¼ tsp mustard
1 tsp urad dal
1 tsp channa dal
3 tsp jaggery
a small pinch hing
½ tsp tamarind paste
2 tsp cooking Oil
½ tsp salt
Method :
Fry mustard, hing, urad dal, channa dal, red chilli, green chilli and bittergourd in oil, until the
bittergourd becomes brown.
Put salt, tamarind paste and 1 cup of water, and allow it to cook for few minutes.
Put jaggery and cook for 5 minutes.