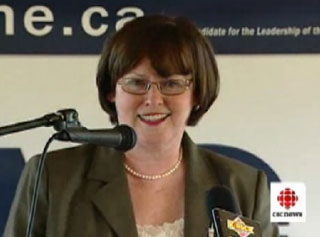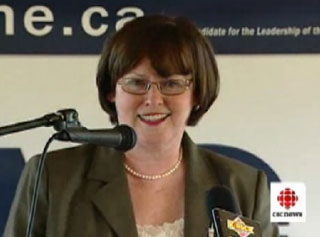 Olive Crane ends years of speculation making run for leadership of PEI Conservatives on her integrity and experience
Olive Crane made her official bid for the PEI Conservative Party leadership yesterday in Morell.
Crane has been interim leader of the party since the June 2007 defeat of former Premier Pat Binns and his government.
Her bid marks the end to years of speculation on her interest in the job long term. By announcing her bid, she had to resign the interim party leadership which cost her the leader's remuneration. MLA Jim Bagnall becomes the Interim Leader.
In the minds of most Islanders Crane stands for integrity. Many people believe Crane is the antidote for the PNP corruption of the present Ghiz Liberal government.
As Interim leader Crane pounded the Ghiz Liberals in every session of the Legislature to come clean on the PNP. She called for a public inquiry and witnesses in the Public Accounts Committee. Ghiz was able to sidestep her demands for accountability and refuses to release details on the scandal.
Along with integrity, Crane has been a staunch supporter of rural PEI and various social issues including improvements in health care.
Crane was first elected to the PEI Legislature in 2006 after a career in the PEI civil service, mainly in the Department of Social Services and Seniors.
Peter Llewellyn and Fred McCardle have already announced their bid for the leadership. Others are expected to come forward soon. The convention will be held in the fall of 2010.