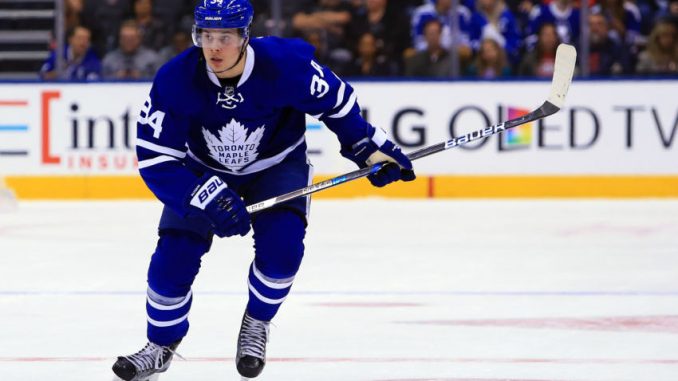 Toronto Maple Leafs pluck Anaheim Ducks 7-4. Here is the summary for the game played on Saturday, February 3, 2018.
| | | | | | |
| --- | --- | --- | --- | --- | --- |
| | 1 | 2 | 3 | OT | FINAL |
| ANAHEIM | 0 | 3 | 1 | – | 4 |
| TORONTO | 1 | 3 | 3 | – | 7 |
GAME SUMMARY | EVENT SUMMARY | FACEOFF SUMMARY

ON THE SCORESHEET
Auston Matthews put the Maple Leafs on the board at 6:32 of the first period and later added the Maple Leafs' sixth goal of the night at 16:49 of the third period before picking up the secondary assist on Zach Hyman's empty net goal. Matthews has seven points (4 goals, 3 assists) over his last five games. He has scored 23 of his 25 goals at even-strength this season.
William Nylander had the secondary assist on Matthews' first period goal and later scored the second and fifth Toronto goals of the game. Tonight's game is Nylander's first multi-goal performance of the season and his eighth multi-point game of the season. His three points tie his season-high for points in a game set on November 30 at Edmonton. Nylander has nine points (3 goals, 6 assists) over his last seven games.
Mitch Marner
scored the third Maple Leafs goal of the night on the power play at 15:28 of the second period. Marner has goals (2) in two consecutive games. He has four goals over his last six games. The goal was Marner's 14th power play point, which places him in a tie for the team lead.
Leo Komarov recorded the fourth Toronto goal of the game at 17:40 of the second period. Komarov has registered six of his 14 points against the Pacific Division this season (3-3-6). The Maple Leafs are 5-0-0 when Komarov scores this season.
Zach Hyman picked up the primary assist on Matthews' first period goal and later added the seventh Toronto goal of the night with an empty-net goal at 19:04 of the third period. The assist and goal were Hyman's 29th and 30th points of the season, which establish a new career-high for points in a season, surpassing his previous high of 28 set as a rookie in 2016-17.
Jake Gardiner picked up the lone assist on Nylander's second period goal, the primary assist on Komarov's second period goal and the lone assist on Nylander's third period goal. Gardiner leads the Maple Leafs in assists with 30. Tonight's three assist performance ties his season-high for assists in a game and is his third time registering three assists in a game since January 20 (Jan. 20 at Ottawa; Jan. 25 at Dallas).
Nazem Kadri registered the primary assist on Marner's second period goal and the secondary assist on Komarov's second period goal. Kadri has points (3-5-8) in six consecutive games.
James van Riemsdyk had the secondary assist on Marner's second period goal. He is tied for the club lead in power play points (14).
Kasperi Kapanen recorded the lone assist on Matthews' third period goal. Kapanen's assist is the first of his NHL career.
Connor Brown registered the primary assist on Hyman's empty net goal. Brown has two assists in four games since the All-Star Break.
Frederik Andersen stopped 25 shots in 33:45 before leaving the game in the second period.
Curtis McElhinney stopped 15 of the 16 shots he faced in relief of Frederik Andersen to earn the victory.
SHOTS FIRED
The Ducks had a 44-40 lead in shots on goal in all situations and a 34-27 lead in shots on goal at 5-on-5.
Anaheim had an 84-64 lead in shot attempts in all situations and a 69-44 lead in shot attempts at 5-on-5.
Mitch Marner and William Nylander each registered a team-high five shots on goal.
William Nylander led the Maple Leafs with nine shot attempts.
SHOTS ON GOAL
| | | | | | |
| --- | --- | --- | --- | --- | --- |
| | 1st | 2nd | 3rd | OT | TOTAL |
| ANAHEIM | 16 | 14 | 14 | – | 44 |
| TORONTO | 15 | 9 | 16 | – | 40 |
SHOT ATTEMPTS
| | | | | | |
| --- | --- | --- | --- | --- | --- |
| | 1st | 2nd | 3rd | OT | TOTAL |
| ANAHEIM | 30 | 25 | 29 | – | 84 |
| TORONTO | 24 | 16 | 24 | – | 64 |
NO PLACE LIKE HOME
The Maple Leafs are 15-8-2 at home this season.
Toronto's all-time record is 25-11-5-1 in 42 games against the Ducks and 15-3-4-1 in games played in Toronto.
Toronto is 16-8-2 against the Western Conference this season and 11-5-0 against the Pacific Division.
Tonight's attendance was 19,055.
The Maple Leafs continue their homestand when they host the Nashville Predators on February 7 at 7:30 p.m.
MAPLE LEAFS LEADERS
| | |
| --- | --- |
| Faceoff Wins | 11 (Bozak) |
| Faceoff Win Percentage | 73% (Bozak – 11 won, 4 lost) |
| Hits | 5 (Komarov) |
| Blocked Shots | 4 (Hainsey, Zaitsev) |
| Takeaways | 1 (Five players tied) |
| TOI | 21:11 (Hainsey) |
| Power Play TOI | 3:03 (Marner) |
| Shorthanded TOI | 4:20 (Hainsey) |
| Shifts | 29 (Rielly) |
| 5-on-5 Shot Attempt Percentage | 51.7% (Matthews – 15 for, 14 against) |
RECORD WHEN…
The Maple Leafs were 2-for-3 on the penalty kill and 1-for-3 on the power play tonight. Toronto is 10-7-1 when allowing a power play goal this season and 14-5-1 when scoring a power play goal.
Toronto is 25-5-3 when scoring the first goal of the game.
The Maple Leafs are 18-3-0 when leading after one period and 19-1-2 when leading after two periods.
Toronto has a 19-10-2 record when outshot by their opponent.
Toronto is 3-0-0 when registering 40-44 shots on home ice.
The Maple Leafs are 4-3-1 in Monday games.
OF NOTE…
The Maple Leafs were 13-for-21 (62%) on offensive zone faceoffs.
Six Maple Leafs (Kadri, Kapanen, Komarov, Marleau, Marner, Moore) did not start a shift in the offensive zone at 5-on-5.
Tonight's win is the 100th coaching win as Maple Leafs head coach for Mike Babcock.
Tyler Bozak was 5-for-5 (100%) in the faceoff circle in the offensive zone.
Jake Gardiner was on the ice for a team-high 20 Toronto shot attempts-for at 5-on-5. Gardiner finished the game with a 5-on-5 shot attempt percentage of 48.8 percent (20 for, 21 against).
UPCOMING GAMES:
Wednesday, Feb. 7 vs. Nashville Predators, 7:30 p.m. (Sportsnet, TSN 1050)
Saturday, Feb. 10 vs. Ottawa Senators, 7:00 p.m. (Hockey Night in Canada, FAN 590)
Monday, Feb. 12 vs. Tampa Bay Lightning, 7:00 p.m. (TSN4, TSN 1050)
Wednesday, Feb. 14 vs. Columbus Blue Jackets, 7:00 p.m. (Sportsnet, FAN 590)
Saturday, Feb. 17 at Pittsburgh Penguins, 7:00 p.m. (Hockey Night in Canada, TSN 1050)
POSTGAME QUOTES:
HEAD COACH MIKE BABCOCK
On tonight's game:
I thought we had a pretty good first. I didn't think we were as good in the second. We needed a response, we got a response when we needed it. [Matthews]' line had a huge night and the puck went in a lot at both ends, obviously. It was nice to win.
On how Andersen is feeling:
I think fine. I was just talking to him, he seems good. We'll see how it goes tomorrow.
On what he thought about the collision that knocked Andersen out of the game:
I don't know. What do I say to that?
On the difference in the Matthews line from Saturday to tonight:
They scored. I don't know, they played good. They played against a real good checking line and they didn't affect them. That line tried to be physical with them early, they didn't let that bother them, they just played. For whatever reason we didn't have the legs very good the other night, so when they against [Patrice Bergeron]'s line, they didn't have much success, they turned over the puck and played a lot of defence. Tonight, they were skating and working and all three guys were very, very competitive. In the end it went good for them.
On Jake Gardiner:
He's a real good player, got real good hockey sense, obviously. He can really pass the puck. His hockey IQ is high, high, high, and so he sees things other people don't see so he makes those plays.
On switching the defensive pairs around to match up against the Getzlaf line:
They were eating us alive, right? That line dominated us and we just had to be better defensively. We didn't take good enough care of the puck against them and they knocked down a lot of plays. We were – I don't want to say cheating for offence – but we were hoping to get offence instead of just playing right and being patient.
On winning his 100th game behind the bench in Toronto:
How many did I get in my first year? Anyone remember? I don't know. It didn't seem like we won one that winter, did it? I don't know when we got all of these [wins], but obviously our team is getting better. Tonight, we played – I think Anaheim has a really good team. You've got to see what you can do against good teams to really measure yourself and winning 7-4 isn't how you draw it up, but it was nice to win. Let's keep getting better.
On if Andersen tried to come back to the game:
I don't hear any of that stuff. They just tell me if he's playing or not.
JAKE GARDINER (3 ASSISTS)
On what he saw on his assist on William Nylander's game-winning goal:
I'm not really sure what happened with that draw but the puck came to me and I knew Willy had originally gone at the defenceman and he's a good, offensive, smart player. I figured he'd probably keep going and that's what happened. I saw him and he made a good play.
On what it was like to play in a wild game like tonight's:
We were joking about the football game – all offence – and that's kind of how it was tonight. We definitely need to tighten up in some areas but we obviously got it done so we'll take it.
On the Matthews-Nylander-Hyman line:
They were phenomenal. Buzzing up and down the ice. If they're going to score at that rate I think we'll win a lot of games but not only that, I thought they played pretty well defensively and battled.
On what makes the Perry-Rakell-Getzlaf line so difficult to defend:
Three big bodies. Getzlaf is probably one of the smartest players in the league. Just finds guys. Makes the right play all the time and then Rakell can bury the puck – so can Perry – so that's a pretty lethal combo.
AUSTON MATTHEWS (2 GOALS, 1 ASSIST)
On bouncing back after the loss to Boston on the weekend:
Yeah definitely a good bounce back game for us – kind of a back and forth game but we showed some resilience, stayed with it and obviously happy with the two points.
On his opening goal:
We wanted to get off to a good start. Obviously, our line wasn't happy with our performance last Saturday so it was a good start for us and obviously all four lines were going tonight. We've got depth and when everyone's going we're pretty tough to compete with.
On if Andersen going down provided any more motivation:
Yeah, I guess so but, I mean, we've got our faith in [McElhinney]. He's come up big for us, he came up big for us tonight and made some big saves but obviously when a big piece of your team like Fred goes down in the middle of the game everyone kind of wants to rally around and be better for one another but obviously [McElhinney] played really well.
CURTIS McELHINNEY (15 SAVES)
On entering the game after Andersen went down:
Yeah, you know, fortunately it hasn't happened this year so it's nice to step into an opportunity like that and get the win for him.
On what's going through his mind when he sees Freddie get hit:
Honestly, I didn't even see the play, I was just doing faceoffs for Mike [Babcock] and making sure those were done right. It's an unfortunate thing. I know they've got a couple of guys that go to the net pretty hard so you don't want to see anyone go down there. Hopefully he's alright but we made the most of it when I went in there so it's good to see.
On how he felt when he first went in:
Yeah, a little sluggish I would say. You know sometimes those situations are difficult to get into but I thought we responded pretty well when I went in there and even after the goal I gave up in the third period as well.
On facing a team with a heavy net presence:
It's tough. I mean, you get a lot of throw ins, a lot of bounces, a lot of plays in tight and you know it puts a lot of onus on the goalie and puts a lot of pressure on the defencemen too to do a good job so for the most part I thought everyone did a great job.
WILLIAM NYLANDER (2 GOALS, 1 ASSIST)
On generating speed against the Ducks tonight:
Yeah, I think it was huge. I think we were able to get a lot of speed and dominate them in their zone so I think that was important for us.
On if he saw something on the low glove side that led to both of his goals:
No, I mean you just try to shoot where it's open. I think the second one was a little lucky. The puck was rolling like crazy so I just tried to get a shot off. It was nice.
On what he's thinking when the puck is rolling on him like that:
You've just got to hit the net. It's hard to settle it down. It was pretty close to the goalie, so just try to get a shot off.
On the battle between the team's top lines:
It's lots of fun. I mean, we don't want to let up that many goals but some games are for fans watching.