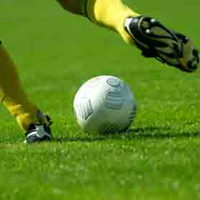 Canada fell 0:3 to host Mexico in a Men's U-17 International Friendly in Morelia, Mexico on Sunday 24 April. The international match was part of both teams preparations for the FIFA U-17 World Cup Mexico 2011 which is now less than nine weeks away. The Sunday morning match was played in front of 5,000 fans at the Estadio Morelos, one of the official venues for the FIFA U-17 World Cup.
Mexico's Jorge Celada of Atlas scored two goals including the opening strike in just the fifth minute of the match. Marco Bueno of Pachuca made it 2-0 in the 67th minute before Celada got his second just two minutes later. Both coaches made numerous substitutions in the match, with Canadian coach Sean Fleming featuring 17 players and Mexican counterpart Raúl Gutiérrez featuring 18 players.
"It was a nervous start for us once again, but we responded very well, kept possession and created two very good chances in the first half," said Canadian head coach Fleming. "In the second half, Mexico scored twice when we gave up the ball. They are a good team that will punish you if you make a mistake."
Celada scored the opening goal in the fifth minute after a Canadian giveaway and Mexico cross to Celada.
Midway through the first half, Canada created a pair of chances between Keven Aleman and Chris Nanco. In the 24th minute, Aleman made a low cross through the six-yard box with Nanco chasing in and getting a shot off from a tough angle. Mexican goalkeeper Armando Lomeli made the save.
Four minutes later, Nanco tipped forward a bounding ball and Aleman broke in past his defender. Aleman tried a chip shot, but he was too close to Lomeli who made the save.
"Overall, I was encouraged by the number of chances we created," said Fleming.
In the second half, Mexico took advantage of two more Canadian mistakes. A simple cross in the 69th minute led to the Bueno goal. Three minutes later, Canada gave up the ball in its defensive third, Mexico made a pair of passes and then Celada finished with his second goal of the match.
Mexico outshot Canada 13-7 in the match, with six shots on target. Canadian goalkeeper Maxime Crépeau's best save was likely the one he made in the 51st minute on a low shot by Celada. Mexico also won 11 of the 14 corner kicks in the match. Mexico was called offside three times and was also shown two yellow cards in the second half.
Canada's starting XI featured Maxime Crépeau in goal, Marco Lapenna at left back, Luca Gasparotto and Daniel Stanese at centre back, Parker Seymour at right back, and Chris Nanco, Samuel Piette, Michael Petrasso, Matteo Pasquotti, Keven Aleman and Jay Chapman from the midfield up through to the attack.
In the second half, coach Fleming made six substitutions. He switched Chapman off for Sadi Jalali (61st minute), Lapenna for Tyler Pasher (69′), Crépeau for Quillan Roberts (77′), Pasquotti for Alex Halis (77′), Seymour for Shadrack Mmunga (77′), and Petrasso for Yassin Essa (80′).
Mexico's starting XI featured Armando Lomeli in goal, Felipe Sifuentes at left back, Jair Zacarias and Luis Solorio at centre back, Carlos Guzmán at right back, Giovanny Casillas at left midfield, Enrique Flores and Kevin Rafael at centre midfield, José Tostado at right midfield, and Jorge Celada and Marco Bueno up front. Zacarias last just 15 minutes before he suffered an injury and was replaced Francisco Flores.
In the second half, head coach Raúl Gutiérrez made six more substitutions. He switched Tostado off for Julio Gómez (53′), Solorio for Antonio Briseño (56′), Casillas for Alfonso Gonzalez (61′), Bueno for Daniel Hernández (70′), Rafael for Marcelo Gracia (81′), and Celada for David Carmona (85′).