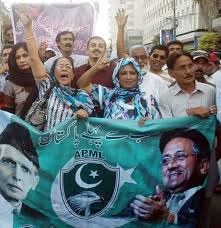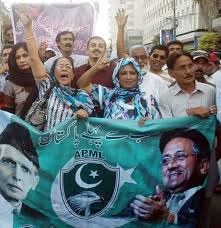 There are three options available to Justice Faisal Arab and his three member court if Musharraf does not appear into the court. Since the start of court hearings, Musharraf hasn't appeared in court even once. One of the options is that the tribunal may ask the person who has given the surety bond of Rs2.5 million to deposit the money if he wants the case to proceed further.

According to legal experts, the special court can also decide to issue non-bailable arrest warrants, according to which the accused should be arrested and presented before the court. Azhar Siddique said that the third course that the tribunal may have to adopt is that they will hear an application by the defence lawyers that Musharraf should be given an exemption from appearing for one or more days for very solid reasons. Siddique explained that the acceptance of the bailable arrest warrants by the former general did not stop him from seeking further exemptions from appearance on cogent grounds for example his health condition. If he presents a certified medical certificate that is disallowing his movement out of the Armed Forces Institute of Cardiology (AFIC), then bailable arrest warrants might be the option adopted.

The lawyer further added that the court would first take a decision on the plea, which would be nearly seventh in a row since the tribunal began in December. However, he added, if the Supreme Court suspends the bailable arrest warrant which has been challenged, the tribunal would eventually stop from forcing Musharraf's appearance before it.