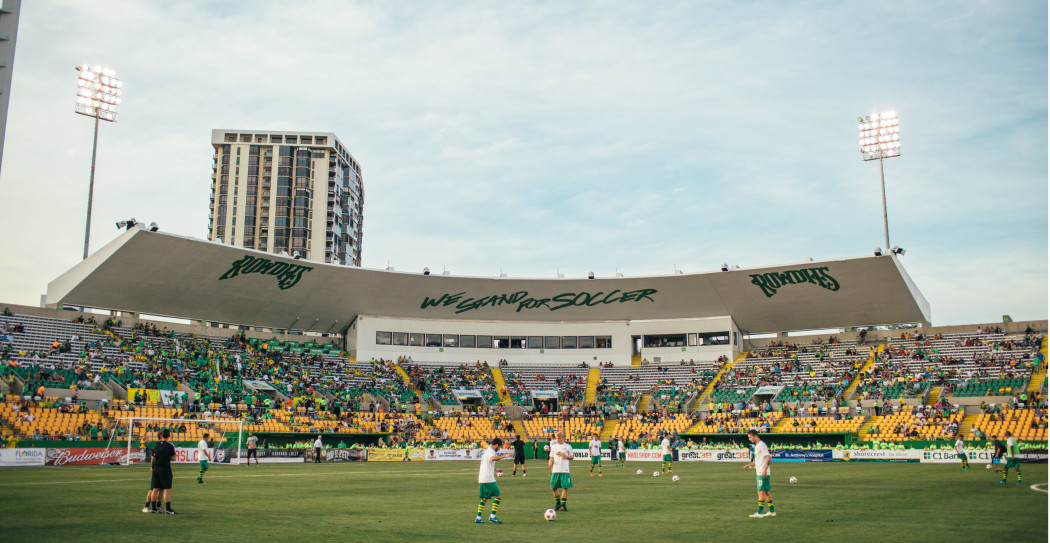 This article was last updated on April 16, 2022
Canada:

Oye! Times readers Get FREE $30 to spend on Amazon, Walmart…
USA:

Oye! Times readers Get FREE $30 to spend on Amazon, Walmart…
Race For Final Spot In The Championship Takes Center Stage On Saturday
Minnesota, Rayo OKC enter weekend in driver's seat as others continue chase
NEW YORK (October 21, 2016) – The North American Soccer League (NASL) Fall Season is winding down and so is the opportunity to reach The Championship, the league's four-team postseason tournament. Minnesota United and Rayo OKC currently have a foothold on fourth place in the Combined Standings – with the Loons just ahead on goal differential – heading into Week 17. Both clubs face crucial games, on the road, against other postseason contenders on Saturday night – Minnesota visits the Carolina RailHawks, while Rayo OKC meets the Fort Lauderdale Strikers.
Miami FC and the Tampa Bay Rowdies' hopes of playing in November are hanging by a thread after losses on Wednesday night. The Rowdies remain at home and play Ottawa Fury FC as Miami heads to New York to take on the Cosmos, who have yet to lose a game at Shuart Stadium in 2016.
Elsewhere on Saturday night, Indy Eleven can remain unbeaten at home in a matchup with Puerto Rico FC. In the lone Sunday affair, FC Edmonton hosts Jacksonville Armada FC.
Fort Lauderdale Strikers vs. Rayo OKC
7 p.m. ET | Saturday, October 22
Central Broward Stadium | Lauderhill, Fla.
Watch | ESPN3 (National – U.S.), NASL.com (National – Canada), SFL-TV (Local – Fort Lauderdale), *International outlets
The Fort Lauderdale Strikers and Rayo OKC face off in an important game in the race to the postseason, particularly after midweek results went against other contenders for the last spot in The Championship. The Strikers need a victory to stay in the hunt and currently trail Rayo OKC by three points. Fort Lauderdale (6W-5D-9L, 23 points Fall; 10-8-12, 38 points Combined) enters the game on Saturday after two straight wins with Geison Moura picking the right time to find the goalscoring touch. He has scored game-winning goals in back-to-back games, most recently in a 2-0 win over Puerto Rico FC. The Strikers have been particularly strong at home with only one loss in the last eight games.
Rayo OKC, though, heads into matchup with the Strikers as one of the hottest teams in the league. The club is unbeaten in its last eight games and has won the last three. Michel has been leading the charge to the postseason, scoring six times over the eight-game stretch. The veteran Brazilian scored three goals in Week 16 as Rayo OKC (7-8-5, 29 Fall; 10-11-9, 41 Combined) earned a pair of wins that vaulted the club into contention. A win would not only give Rayo OKC a strong chance to reach the postseason, but also help shut the door on other hopefuls.
New York Cosmos vs. Miami FC
7 p.m. ET | Saturday, October 22
Shuart Stadium | Hempstead, N.Y.
Watch | ONE World Sports (National – U.S.), ONEWorldSports.com (National – U.S., Canada), GolTV (National – U.S.), *International outlets
The New York Cosmos have already wrapped up the Fall Season title and the No. 1 seed in the postseason, but the club will be fighting for a record on Saturday against Miami FC. New York (12-5-3, 41 Fall; 18-5-7, 59 Combined) is unbeaten in its last 18 regular-season games at Shuart Stadium and can set the league's home unbeaten streak mark with a draw or win this weekend. Juan Arango continues to be the focal point of the attack, using a pair of his signature free kicks to lead the Cosmos to a 4-2 win over Jacksonville Armada FC in the club's last game. Arango and New York's attack has been strong against Miami in the two meetings, scoring three goals apiece in each game and winning both.
For Miami FC, things could have been much different heading into the weekend clash. After grabbing a lead against Jacksonville on Wednesday night, the side conceded two goals and left Community First Park with no points. That loss kept Miami (8-6-6, 30 Fall; 9-10-11, 37 Combined) four points back of fourth place in the Combined Standings and the final postseason berth. Making matters more difficult on Saturday, Miami will be without Kwadwo Poku (red card) and Gabriel Farfán (yellow-card accumulation).
Carolina RailHawks vs. Minnesota United
7:30 p.m. ET | Saturday, October 22
WakeMed Soccer Park | Cary, N.C.
Watch | ESPN3 (National – U.S.), NASL.com (National – Canada), TWC SportsChannel (Regional – North/South Carolina), WRAL2 (Local – Cary/Raleigh), MY29 (Local – Twin Cities)
The Carolina RailHawks hit a speed bump at the worst possible time with back-to-back losses, but the club has a huge opportunity to vault itself right back into postseason chase. Carolina (6-5-9, 23 Fall; 10-7-13, 37 Combined)hosts Minnesota United and a win on Saturday would move the side within a point of fourth place in the Combined Standings, depending on other results, heading into the final game of the Fall Season. The RailHawks have been in good form at WakeMed Soccer Park throughout most of the year, but have lost two of the last three home games. Carolina did defeat Minnesota, 2-1, in the Spring Season in Cary.
Minnesota (6-7-7, 25 Fall; 11-8-11, 41 Combined) squares off with Carolina after a confidence-building 3-1 win over FC Edmonton. After a winless stretch of six games, Christian Ramirez (18 goals) padded his league-leading goal total with a pair of tallies in the victory. The Loons will now hope that incisive attacking play can be replicated on the road. With an advantage in goal differential, two wins to close out the year, starting on Saturday, should bring the reward of a postseason spot.
Indy Eleven vs. Puerto Rico FC
7:30 p.m. ET | Saturday, October 22
Carroll Stadium | Indianapolis, Ind.
Watch | ESPN3 (National – U.S.), NASL.com (National – Canada), WISH-TV (Local – Indianapolis), WAPA 2 (National – Puerto Rico)
Indy Eleven is in the postseason, but played the role of spoiler on Wednesday with a 3-2 win over Tampa Bay, which put Rowdies' postseason chances in jeopardy. More importantly for Indy (10-4-6, 34 Fall; 14-10-6, 52 Combined), the club shook off its struggles on the road to record a second victory away from home in 2016. Now, the club will aim to continue its unbeaten run at Carroll Stadium, where it has not lost in the last 17 games. Coach Tim Hankinson chose to rest several players during the midweek clash, but young forward Duke Lacroix stole the show with some stellar individual efforts to score and create another goal in the win.
Puerto Rico FC (4-9-7, 21 Fall; 4-9-7, 21 Combined) travels to Indy on the heels of a tough 2-0 loss to the Fort Lauderdale Strikers that ended the club's seven-game unbeaten run. Puerto Rico played the Eleven tough in the side's first NASL game in the 1-1 draw. Puerto Rico has shown promising signs at the tail end of its first NASL campaign with several young players – Sidney Rivera, Jackie Marrero and Kyle Culbertson – making important contributions.
Tampa Bay Rowdies vs. Ottawa Fury FC
7:30 p.m. ET | Saturday, October 22
Al Lang Stadium | St. Petersburg, Fla.
Watch | beIN SPORTS en Español (National – U.S., Canada), beIN SPORTS CONNECT (National – U.S., Canada), BHSN 1147 (Local – St. Pete/Tampa Bay), Rogers TV (Local – Ottawa)
The postseason hopes for the Tampa Bay Rowdies were dented on Wednesday night after the 3-2 loss to Indy Eleven. Joe Cole powered the Rowdies' comeback with a pair of goals, one of which was of the highest quality on a strike from distance, but a late goal left Tampa Bay (5-7-8, 22 Fall; 9-11-10, 38 Combined)with no points and a three-point gap still to make up in the Combined Standings. Wednesday's game was the second game in a row that Tampa Bay has fallen in a two-goal hole to start a game. The Rowdies now must rebound against Ottawa.
Fury FC (5-6-9, 21 Fall; 7-9-14, 30 Combined) is also trying to rebound from a dip in form that has resulted in three losses in the last four games. The club lost, 3-1, a weekend ago to Rayo OKC. Ryan Williams and Giuseppe Gentile have been bright spots during the recent stretch, scoring the last four Fury FC goals – Williams and Gentile have two goals apiece over the past four contests.
FC Edmonton vs. Jacksonville Armada FC
4 p.m. ET | Sunday, October 23
Clarke Stadium | Edmonton, Alberta
Watch | ESPN3 (National – U.S.), NASL.com (National – Canada), City TV (Local – Edmonton)
With its final home game of the season, FC Edmonton will try to get back on the right track with the postseason looming. The Eddies (9-6-5, 33 Fall; 14-8-8, 50 Combined) have dropped the last two games, most recently in a 3-1 loss to Minnesota United, before taking on Jacksonville Armada FC. The Eddies have picked up four points in the two previous meetings against Sunday's opponent. Coach Colin Miller has rested several regulars over the past two games, most notably goalkeeper Matt VanOekel, and may do the same against the Armada FC.
Jacksonville (4-8-8, 20 Fall; 5-12-13, 27 Combined) was in action on Wednesday night and played the role of spoiler with a thrilling 3-2 victory over the Tampa Bay Rowdies. Charles Eloundou shined once again with his dribbling ability and strength on the ball, which was emphasized on his goal 36 seconds into the game against Miami. Zach Steinberger also played a key role in all three goals for coach Mark Lowry's men. The Armada FC now looks to continue its strong finish with two games left.
You can publish this article on your website as long as you provide a link back to this page.